Hey reader,
A while ago, I promised on my Design Hero newsletter that big changes were coming…
Well I'm writing to you from my new garden office,
The rain is pelting the windows;
But the dog is cosied up at my feet,
the birch trees I've planted just outside are rustling,
and a flock of bluetits are flitting about just metres from where I sit…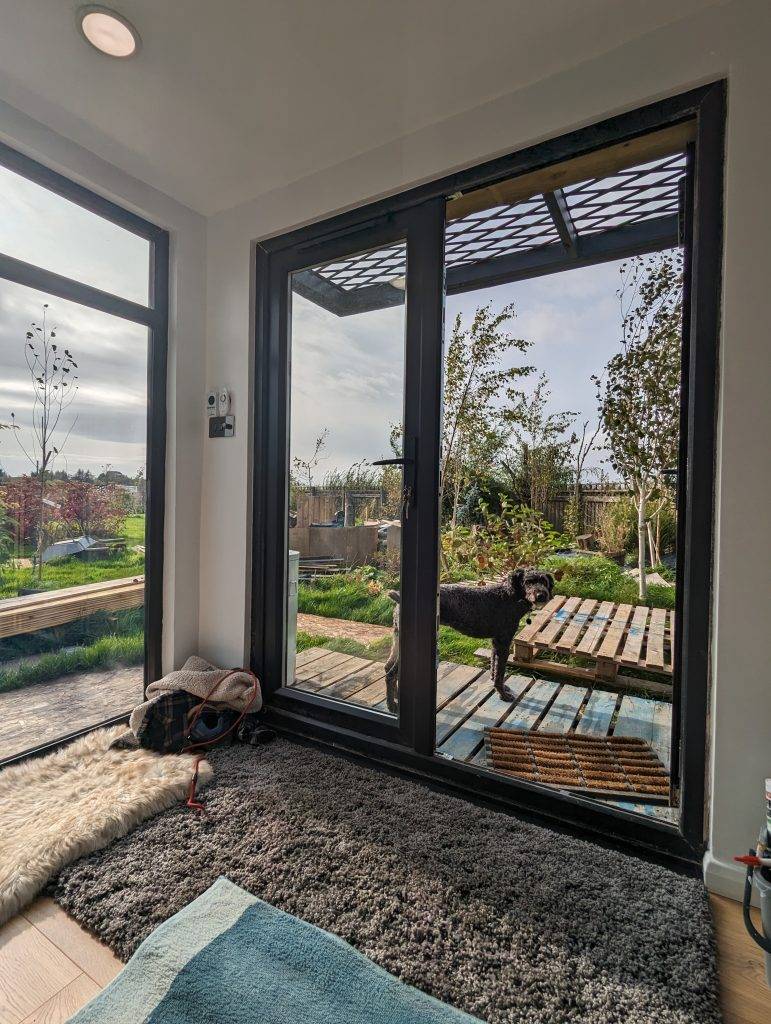 I guess you could say life is good.
But looking back at the past year, it's been the rollercoaster familiar to most solopreneurs!
I've struggled to find purpose,
I've lacked motivation for long periods,
I've made huge mistakes, & been ripped off by contractors to the tune of 20k (another story).
and yet…
I've also doubled my income for the third year running,
I've moved to the countryside,
I've built myself a creative retreat & clawed back time to write.
Plus I've dipped my toes into my personal goal of getting into motorsport.
All these are things that I wrote on a bucket list just 3 years ago.
At the time I was working 2 full time jobs and had no control over my life.
These seemed like impossibly ambitious dreams, for some time in the far distant future.
I don't say this to brag;
I hate to talk about myself.
I say this to illustrate what is possible with the right skills, tools & systems.
People tell me I'm lucky.
I hate that word as it robs you of any personal achievement and attributes your struggles to outward forces of "luck".
But I DO feel incredibly fortunate.
Design Hero is ticking along nicely, which means I have time to indulge in long reflective passages like the one you've just read…
Which means I also have time to do something I've been putting off for months:
Over the last 3 years, I've been sending marketing tips to my small but growing audience of business owners, under "The Knowledge Vault".
Often, I felt I was speaking into an empty room…
But every so often, one of you would reach out to say you found something helpful or inspirational.
This was the nugget of motivation I needed to keep going.
Whilst I love helping people grow their business,
I feel this content no longer provides the value I'd like.
It's just not enough.
I'm not interested in helping people grow a small business which earns an alright wage.
You could do that in a 9-5 job & have less stress.
The things that people seemed to really connect with,
was when I lifted the curtain on how I've grown my own business Design Hero;
A highly profitable, remote lifestyle business with no office, no overheads,
☠️ So "The Knowledge Vault" is dead,
🥳 long live "Life by Design"
So what is "Life by Design"?
Life by Design is my personal approach to life & work,
to help solopreneurs like you to design the life you want and build a 6 figure lifestyle business around it.
Here's what I promise…
No fluff, no theory:
Life by Design is practical things you can start doing right now;
Simple actions you can take to change the way you live & work & steer your life in the direction you want.
This is something I've talked about over the last year;
I've been working in education,
design future business and design curriculum with teachers,
& was honoured to speak at schools in Scotland for BBC Bitesize.
I've also helped 2 cohorts of students become better at running a business;
I've been teaching the systems I use in my own business every day.
I've helped them to earn more, gain more free time, and live more purposefully and intentionally.
But I won't lie, it's a long process.
I've spent thousands of pounds on coaching & courses myself on my journey from employee to freelancer to solopreneur.
Some are great and have genuinely changed my life,
but most overpromise and underdeliver.
You know the type…
"10 weeks to £10k months"
"total happiness in 7 easy steps"
"How to date a celebrity, earn a million £ and change your life in x1 free workshop!"
Offers with a quick & easy result are easier to sell.
(Everyone wants the diet pill, no-one wants to workout)
Hence dramatic life transformation attached to impossibly short timeframes.
🤬 I'm frankly sick of it.
Here's the truth creators won't tell you:
Out of 100 students, a few with momentum & the right circumstances will hit the goal.
Their testimonial will be used to hook more students.
The other 97 will fail to achieve the desired outcome in an impossibly ambitious timeline,
feel like a complete failure,
and possibly give up entirely.
This feeling of failure can not be understated.
It's a deep-seated dissatisfaction with your current situation,
An insatiable drive to do 'more' work,
or a frustration of not getting the results you want.
It manifests itself in all sorts of nasty ways,
but speaking from experience here, the result is always the same:
😧 Stress
🤬 Burnout
😔 Depression.
💥 Well FUCK THAT.
This will slow my growth, but I'd rather be realistic.
I've met people earning £20k/m who are miserable.
They sacrifice their lives to build a business,
instead of building a business that feeds their lifestyle.
If your life is simply what you do every day,
Then what you do every day determines your life.
The outcome of your daily habits determines the quality of your life overall.
or to put it another way…
if you want to grow a lifestyle business,
you aren't going to get there by following the status quo;
you have to change your life first.
One my of workshop attendees summed it up perfectly:
"I loved what you said. I was doing it the usual way, because everyone does it that way.
but WHY are we still working this way, it's so dumb!?"
– Liz Heinberg, Brand Specialist
Big change takes small steps + a lot of time.
Yes, I want to help you grow a 6 figure business,
Yes, growth can be challenging,
but I want to help you to grow a 6 figure solo business without burnout.
So if you're looking for a 10 week programme to make £10k/m this isn't it!
Skip to the bottom and hit the unsubscribe right now.
But…
If you feel like your life has just happened to you by chance,
if you want to live a life you designed intentionally,
if you're ready to start making some small changes…
Then this new content format will help you make small course corrections that will dramatically change the destination of your life in the next few years.
Changes that will give you more 💵 income, ⚖️ stability and 🕊️ freedom in both your life and business.
🧠 Mindsets to craft your ideal lifestyle:
Lifestyle businesses are about more than money. They are about living first. I'll share business policies that make life & business easier & less stressful.
💼 Resources
Templates, resources, guides, worksheets and workshops for the nitty-gritty of growing a business by yourself. From ideation to execution, I'll show you how to create a highly profitable, one-person business.
🤖 Systems
Automations, systems, and processes to steal back your free time and scale your business without just working more or getting overwhelmed.
Here's what folk are saying about Life by Design
"I already feel the benefits mentally, feeling less stressed and more motivated with more focus and direction, due to gaining some clarity with how and where I want the business to go, along with ideas of how to move forward, and I think I will soon see benefits financially as well, once I've put everything in place and then start scaling it up."
— Carmen Hamill, Graphic Designer
"My head feels like it's exploding! The sessions, support by e-mail, the worksheets…great systems, you've given me so much to think about."
— Patrick Grossman
"Lots of useful info for me to action.
It definitely ticks my 3 F's … freedom, fulfillment and financial.
My head actually feels a little lighter. One thing at a time, progression not perfection. "
— Craig Holland, Videographer
"This is the best advice I've ever had. Literally gold!
It's a constant struggle, Thank you so much!
— Niklas Isberg, Designer
This is what Life by Design is all about:
helping you escape the grind,
engineer your ideal lifestyle,
& grow a 6-figure solo business around your daily routine.
If this isn't for you, totally understand.
Just hit unsubscribe at the bottom.
If you're ready to start living life by design, you can read more about it using the link below and I'll see you in Life by Design issue #2
https://lifebydesign.online/
Nicholas Robb